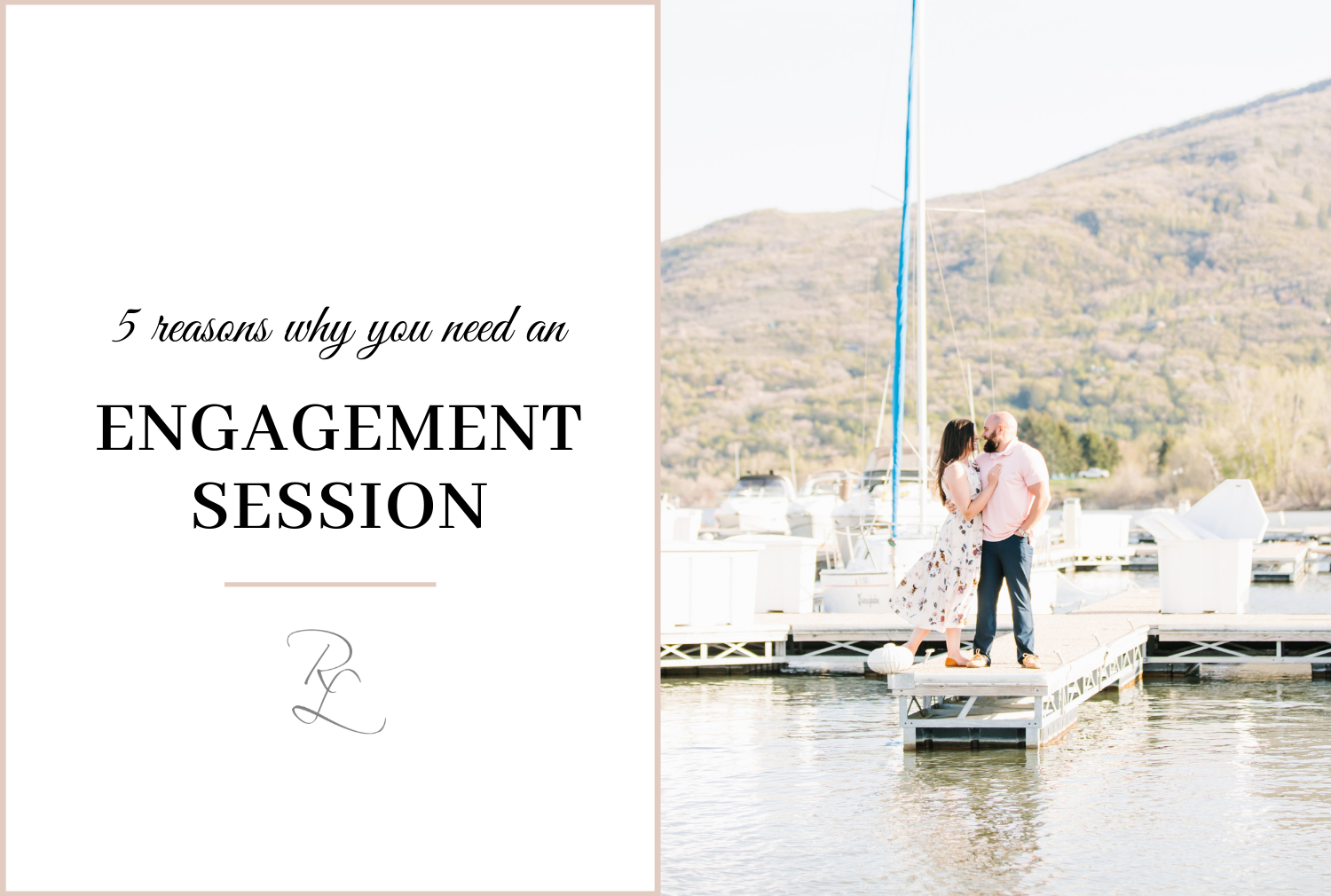 Now that you've either popped the question or said "yes!" to the love of your life, it's time to start the wedding planning process! But it's also a time to celebrate the moment of being engaged, before the vows and the dancing. And engagement portraits are the perfect way to do just that!
Even if you're not sure whether you really need or want an engagement session yet, I always recommend at least considering it for these great reasons:
1. It makes for good practice!
Most couples haven't posed for portraits together prior to the wedding day aside from the usual selfies and group photos for Instagram. This makes an engagement session the first official portrait session you'll have together!
By taking portraits in advance of your wedding day, you can learn to relax in front of the camera together, and learn how to just be in the moment for your wedding day!
2. You'll get extra photos not just in your wedding attire.
Don't get me wrong: I love wedding day portraits. But it's also so nice to have a few pictures to hang on your wall, put in frames, or share online that aren't just from your wedding day.
As a bonus? You can even use one or two of the photos from your engagement session for things like the save the date cards you mail out to friends and family or your wedding website!
3. An engagement session is a great opportunity to get to know your wedding photographer.
I have so much fun working with couples during engagement sessions and getting to know them before showing up on the wedding day. As a photographer, I spend more quality time with couples than most other vendors. This means it's really important to make sure we all feel comfortable with one another before, during, and after the wedding day. Having an engagement session is the perfect way to break the ice and get used to my unique style of posing and shooting!
4. You can go somewhere totally unique!
Maybe there's a place that is really meaningful to you both. Or a place you would love to visit for some portraits that is totally different from your wedding venue. An engagement session gives us the chance to go somewhere else with a distinct vibe and scenery from the one you'll see on your wedding day. Some of my personal favorite locations include:
5. The pups can tag along.
Many couples are now including their dogs in the wedding day celebrations, but if your venue or timeline doesn't quite allow room for furry family members, an engagement could be a great way to incorporate them! Just be sure to give them a long walk or take them to the park beforehand to help them be a little calmer when taking portraits.
Bonus reason? Engagement sessions are fun!
We'll walk around, laugh, talk, maybe dance if we feel up to it. It's a time to enjoy and be playful, to live in the moment with the one you love. Engagement sessions can be just as fun as the wedding day, minus all the pressure or stress, and more intimate without everyone else around you.
Schedule Your Engagement Session Today!
Rachel Lindsey Photography is the go-to photographer for couples in Salt Lake City who want bright, emotional, and authentic images to remember their luxurious wedding day by. For classic, timeless photographs of your elegant celebration, reach out to Rachel today!