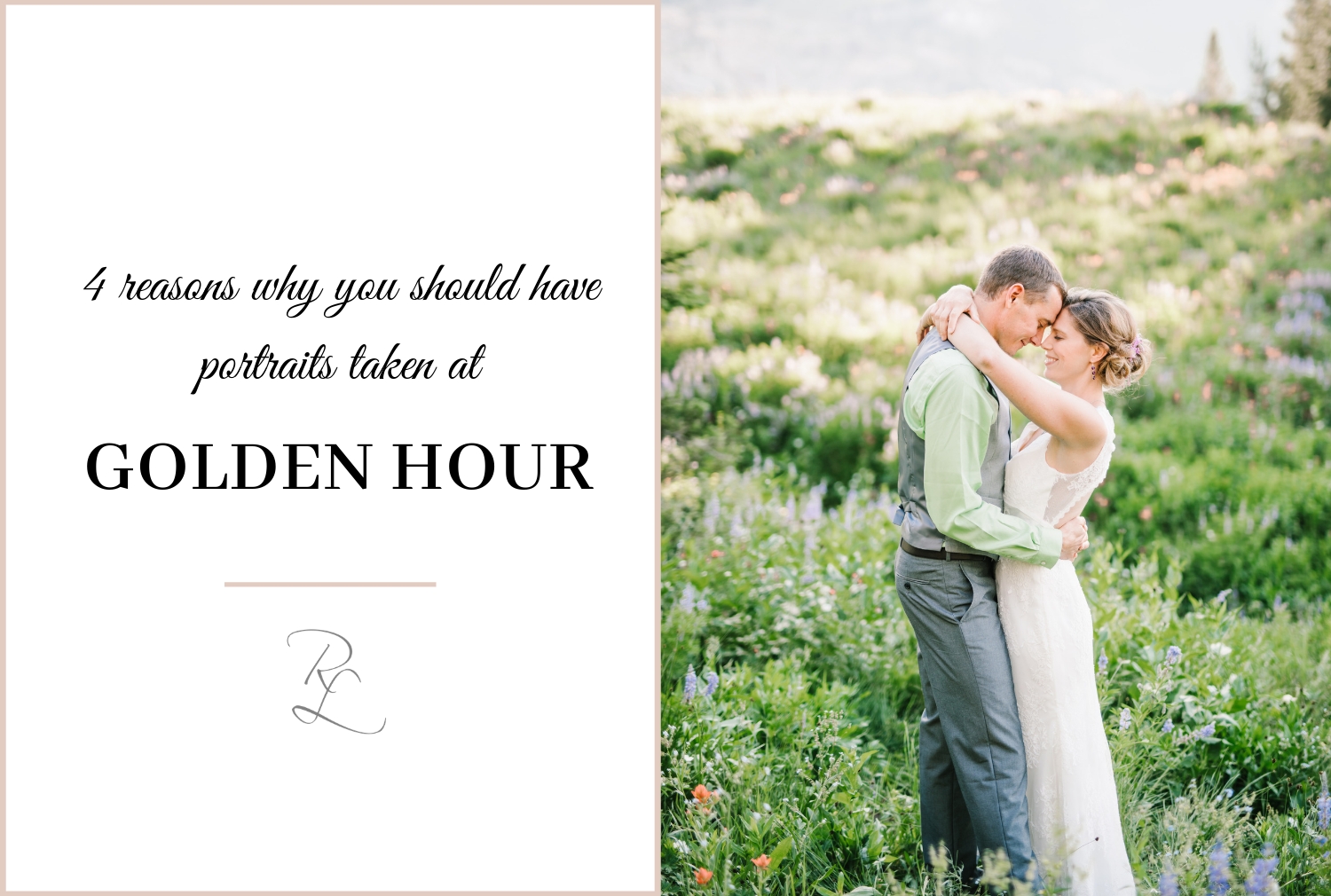 Have you ever heard photographers talk about "golden hour" but you aren't sure what that means or why we love it so much? It's common for a lot of people to think that as long as the sun is out, portraits will turn out great. However, this isn't always the case!
Here are some of the top reasons why your engagement and wedding portraits should be taken during golden hour for the best results.
1. Avoiding Squinty Eyes
Here in Salt Lake City — or Utah in general — you probably already know how harsh the sun can be throughout the year in the middle of the day. Taking portraits when the sun is high in the sky can often cause you to squint to protect your eyes.
While this is totally natural (and helps prevent damage to your eyesight!), it isn't an ideal situation when you're getting photos taken. When the sun is low enough on the horizon, this means that it is farther away from us and less likely to be harmful to our eyes, allowing us to open our eyes without squinting.
2. Soft, Romantic Light
Midday light can be really harsh, creating dark and contrasting shadows that can leave you with less-than-stellar photographs. During golden hour, most of the time everything seems to turn to gold, with a warm light that gives a softer, romantic touch to your portraits!
Golden hour light can also give us some unique light flares and rims of light on your hair, face, and clothes that can make a portrait look absolutely dreamy.
3. Comfortable Temperatures
Weather in Utah can change drastically from day to night. Golden hour sometimes allows us to be more comfortable in summer by avoiding the hottest part of the day and working either before or after the temperatures are at their peak. Sunburn and sweat don't mix well with getting your portraits taken.
And if you have portraits taken when it's colder, you can aim for the last bit of sunlight as the day ends before the temperatures drop at night.
4. Sunsets and Silhouettes
Evening golden hours are even better when sunsets give us a dramatic sky as a backdrop for your portraits! With the light coming from the horizon (or just below it), we also sometimes get the chance to take a few silhouettes, which can be especially pretty for couples portraits during your engagement session or wedding day.
Contact a Portrait Photographer in SLC
Rachel Lindsey Photography is the go-to photographer for couples in Salt Lake City who want bright, emotional, and authentic images to remember their wedding day by. For classic, timeless photographs of your elegant celebration, reach out to Rachel today!