There are just a few things that come to mind as a necessity when planning a wedding. A photographer, cake, dress, suit, and flowers. I have heard sad stories of brides not being happy with their bouquets and where flowers play such an important role in creating the mood and adding to the beauty of the day, I want to help you find a florist that is a perfect fit for you.
I have highlighted a few of my favorite florists to work with in the past. They are all incredibly talented and passionate about what they do. They listen to your vision and help bring it to life. To learn more about each florist, click on the title line and you'll be taken to their websites.
And lastly, as you're creating your budget for florals, be sure to factor in the cost of a bouquet and boutonniere for your pre-wedding day formals session if you are doing one.
"I fell in love with flowers when I was a senior in high school, making boutonnieres and Corsages in floral design class and competing in floral design in FFA. 13 years later and my love has developed into a lifelong passion. Although my style has evolved over the years, I still like to base my designs on colorful, unusual and somewhat funky flowers. I've always had a strong love for all things foraged and more recently have found a new love for natural, and more muted color palettes. I don't particularly stick to any rules. I just go with what my gut tells me. I really love what I do." -Macie Redd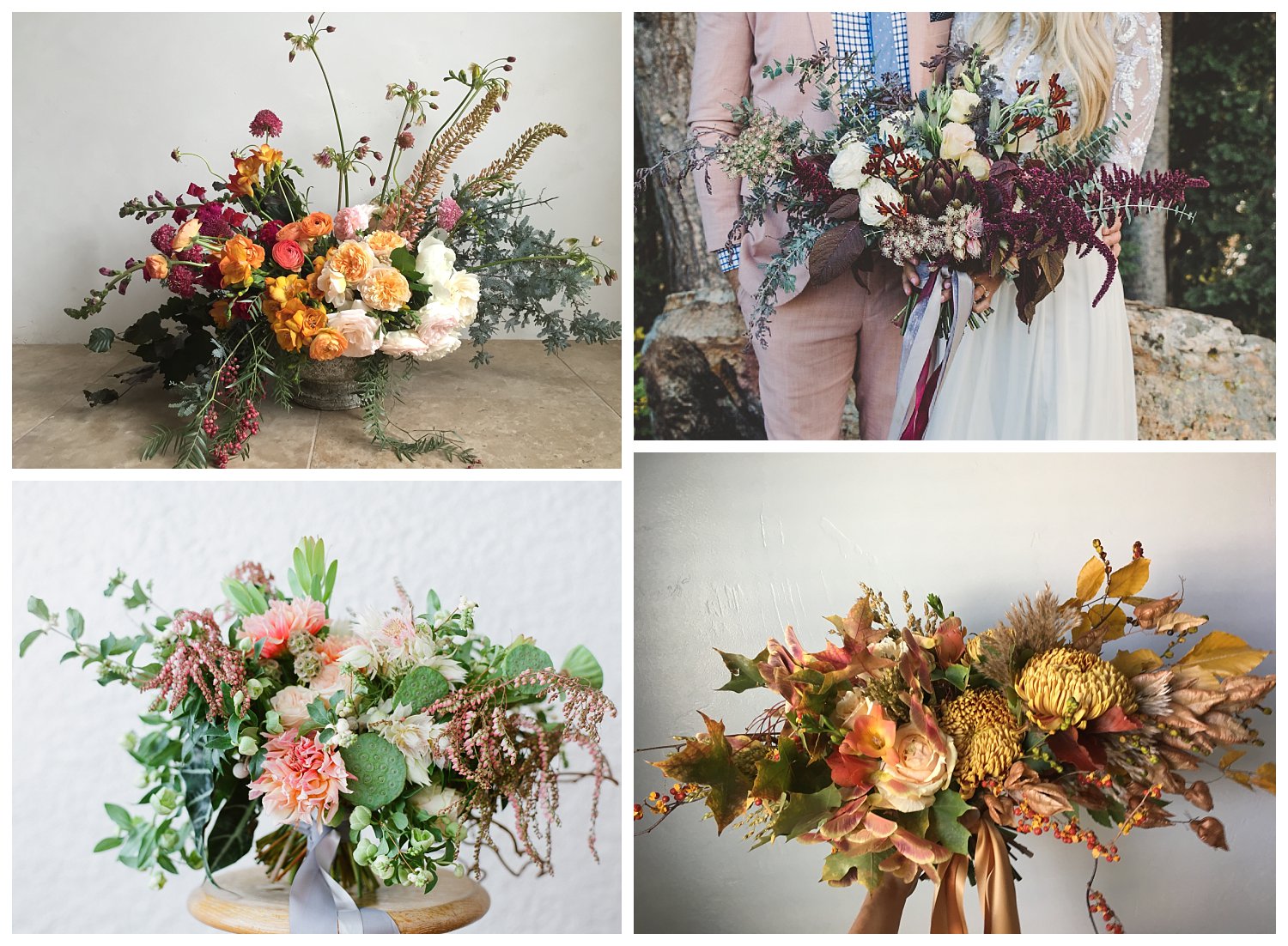 "Hello! I'm Emily from Bloom Boulevard. I have loved flowers ever since I was a little girl. Growing up, my mom had over 16 rose bushes in our front yard and I LOVED when she would cut from them and bring a few buds inside. Flowers have such an effect on a space, they brighten and liven up any area and instantly change the mood.
I was asked to do my first wedding by one of my best friends, when I was still in school for design. I was sooooo nervous! I worked hard and really poured my heart into the event. When I handed over her bridal bouquet, she was so excited and could not stop smiling. The whole experience really stuck with me and is what drove me to start my little business. To this day, that is still my favorite part about being a floral designer. Handing over that bridal bouquet and seeing the bride light up with excitement! Flowers are happy, and that really is all there is to it. So grateful for the opportunity I have had to grow and meet so many wonderful people in this industry! I hope to continue on and enhance the happiness that only flowers can bring." – Emily Slade
Roots Floral Design's arrangements are organic and adventurous designs with a touch of romantic whimsy. With her educational background in fashion and interior design, Kaytee has extensive knowledge in color theory, texture, and composition. Kaytee goes the extra mile to make sure that every wedding is uniquely tailored and runs seamlessly for each couple.
"Some may wonder why I have chosen one of the uglier parts of a flower as my Utah wedding florist business name. If you think about it, it is the roots that sustain and give life to a flower. Roots give the nutrients and stability that a flower needs. The stronger the roots, the better chance a flower can make it through a storm.
Just like in a flower, our own roots can say a lot about us. Our roots tell us where we have been, where we are going, and where we are currently planted.
Although roots may not be beautiful to the eye, they hold such great meaning and symbolism. I like to use this symbol for inspiration to my designs. My designs often have a raw, textured, and natural look to them. I like to have my arrangements and installations look as if they were growing right up from the ground. I find that flowers look best when arranged closely to how you would find them in nature." – Kaytee Stice